I have been collecting songs for my trip that have a meaning for me and I thought I would share them as just good travelling songs, if you have any others you think would be good make suggestions :-)
Savage Garden - Affirmation
You should always ALWAYS start on a positive note and for me this is the song that I dig out when I need to feel good. I was shocked when I heard this, I never thought this would be a group I would like but it is still one of the songs I reach for! If you have listened to it but not listened to the words watch it again and LISTEN :-)
AC DC - Thunderstruck
This shouldn't need explaining, better than caffeine at waking you up, more explosive than uranium 232, more stimulating than a direct injection of adrenalin, more electricity than voltaire.... no journey should be undertaken without AC DC to back you up. Until you have ridden down hill full tilt wind in your face, too scared to hit the brakes, wheels thrumming under you.... Thunderstruck screaming down your ears, then my friend you really really haven't lived....
Get up, grab your mp3 head to the steepest hill you can find now let go.. what are you waiting for, why are you still reading this????
If you have ever been out in the open and this happens
you know you are alive
Lee Marvin - I was Born Under a wondering star
I watched this transfixed as a child, Lee Marvin's performance was perfection. If I get the wanderlust, I can often be heard singing this around the house.. It just means travel, freedom...
Break rules not laws...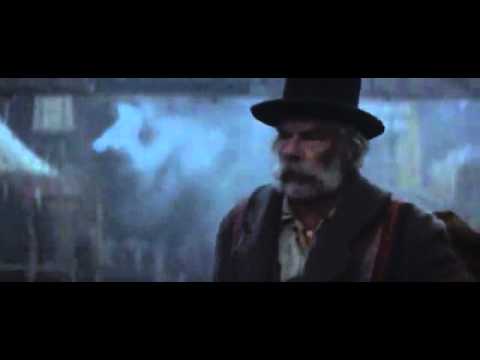 One day I will own that hat and have that beard
"Home is made for coming from, for dreams of going to
Which with any luck will never come true
I was born under a wandrin' star
I was born under a wandrin' star
Do I know where hell is, hell is in hello
Heaven is goodbye forever, its time for me to go"
Ameno - Era
If you have never listened to Era, try now.. Whenever I visit a castle or church or any historical site I imagine one of Era's songs.
Modern Classical
America - Horse with no name
This song reminds me of travelling and it's about a man on a journey. It just takes me away to sunny days and contemplation.
Joseph Ducreux - google it if you don't get it
Jackson Brown - Running on Empty
How many times do you feel like there's nothing left... well trust me you can still keep going for as long as it takes.
When you are truly empty and have nothing left to give..
it is at this point you are the lightest and ready to fly...
Renyk de'Vandre 1992 - 22 yrs old and still learning the hard way :-)
Christopher Cross - Ride like the wind
I know there have been a few versions of this, but hey this is my favourite. I remember being stuck out in the middle of nowhere having cycled for 18 hrs and I was exhausted and this song came on and it picked me up and gave me a boost. I haven't ever forgotten that experience so this is a favourite.
Sometimes life just loads you up too much and you come to a grinding
halt! My advice: if your going to look stupid do it in style and take the
opportunity to rest!
Russell Watson - Faith of the Heart
This is a song all about reflection and the future and faith in yourself. I first heard it as the theme to Star Trek Enterprise and it always conjures up the end of a journey, and the struggle and having the strength to carry on.
If you don't understand this you have been too sheltered
and you should make it your business to find out
for yourself what it means.. it will change you.
Some might find it cheesy, get a heart
Ghost Rider - Riders in the sky
Theres two versions I take, the version from the film ghost rider and the doors version, just a great song that takes me outdoors even when I am inside! Just think of flying down hills on your iron horse! I am starting to think there may have been a cowboy somewhere in my ancestry!
wwwherrress the bloody pedals!
Mussogorsky - Night on a bare mountain
Many many years ago when I first left home I bought my first good stereo and after I connected it this was the album I put on. There was a powerful summer storm outside it was raining but the air was filled with electricity and thunder and lightening. I lived 8 floors up and I went onto my balcony with this playingI can still smell the summer air! It reminded me of mountains and adventure... it still does.
Gladiator Themetune
Another one that transports me to another place, another time...an amazing movie and the end scene playing out to fields of elysium..
Dan Hill - It's a long road
The title says it all.. what can I say I am a child of the 80's and I grew up with Rambo! Eat your heart out Bear Grylls let's see you cauterise a wound with gunpowder!
James - Sit Down
Being mad means I don't mind talking to other mad people which is a usefull skill when your are cycling mile after mile, because the mad person I usually talk to is myself..
RIP Terry, I only met you once but you will always live
on in my laughter and the thousands of others
who shared in your imagination.
It was a strange coincidence that when I heard the news of Terry Pratchett passing away I was listening to this track. If ever there was someone who had a touch of madness it was Terry, one of his famous characters was twoflower the first ever discworld tourist:
"Twoflower was a tourist, the first ever seen on the discworld.
Tourist, Rincewind had decided, meant 'idiot'."
Journey Don't Stop Believing
Recognised cheese, I don't care I love it, I will sing it out loud and enjoy it see if I care!
Kate Bush - Running up that hill
There's plenty of hills on their way for me!
Thom Pace - Maybe (theme tune to Grizzly Adams)
I grew up with Grizzly Adams I still have a copy of the book from the TV series how sad is that!
Charlie Daniels Band - The legend of Wooley Swamp
Not well known but still one of my perennial favourites.
Killswitch Engage - Holy Diver
RIP Dio, I am sorry but the killswitch engage version makes me laugh! This version of Holy Diver always brings a smile to my face!
Lee DeWyze - Black Bird Song
Listen to it, see where it takes you, I am a new convert to Lee DeWyze.
Peter Gabriel - Solsbury Hill
They say that for every uphill there's a downhill.... it never feels like it.. Another classic track imho
Motley Crew - Home Sweet Home
This is a song about going home, after all you haven't been on a journey unless you actually go home. Someone asked me where my home was once, I gave them my address and they said "that's where you live" what is your real home, where are you most happiest. I had to think about that one and basically it's wherever I am at the point I am happy so home for me is essentiall me :-)
Simon & Garfunkel - Scarborough Fair
Many people listen to this and have no idea of what the song is actually about. It is a song where a man requests the listener to request of his former love a series of impossible tasks before he will take her back. It is a traditional ballad made most famous by Simon & Garfunkel.
Ennio Morricone - Magnificent Seven Themetune
Remember the rowntrees fruit pastel advert betting you couldn't eat one without chewing? I bet you can't listen to this on your own without pretending to ride a horse (grinning like a maniac)
Dibbs on being Yul Brynner but my favourite character was
James Coburn
For some reason I always thought this was Ennio Morricone but it is Elmer Bernstein!
All that is necessary for the triumph of evil is that good men do nothing.
Edmund Burke Irish orator, philosopher, & politician (1729 - 1797) .
Barra Barra - from Black Hawk Down
visions of Desert Nights ....
Nox Arcana - Night of the Wolf
For dark scary nights, to set the atmosphere
On the Road Again - Willie Nelson
Just a great song.
Ozzy Osborne - Shot in the Dark
A misspent youth listening to the prince of darkness!
Peter Gabriel (ft Kate Bush) - Don't Give Up
Okay this one is a pick me up song and it has nothing to do with a massive teenage crush on Kate Bush!
Rennaisance - Northern Lights
This is an oldie but again a song with the power to transport me to another world..
Republica - Ready to Go
Yes I am, and this song will get me there if I am not!
Roll Me Away - Bob Seger
Sometimes we all need to get away... even for a short time.
Lindisfarne - Run for home
I think of this when I have finished and I am on the home strait... time to go home!
Saxon - Ride Like the Wind
It's just a cycling song I can't help it!
Simon & Garfunkel - The Boxer
Another song to make you think, but listen to the message deep down there's always some fight left die on your feet not on your knees.
Tom Petty - Running Down a Dream
That's what every journey is about, running down your dreams!
Whitesnake - Here I go again
A favourite and yep here I go again
Yunhi Chal Chal Raahi - From the Bollywood Film Swades
Swades, with Sharukh Khan.. the story of a Nasa Scientist who heads back to india and ends up on a journey of self discovery. This song is where he meets a religious man and gives him a lift.. I could see the stress flowing out of him... journeys can do that for you!